Here is a place where you can learn about the fast growing art and science of circuit bending. Articles on circuit bending and tutorials on it will be posted here on a regular basis.
So what is circuit bending you ask? It is the art of taking an old toy and making it into a modern musical instrument by altering the circuit, mainly the audio portion of it. There are many ways to accomplish this. But first, you may need to find out some electrical terminology. (Pictures will be added)
resistor-the name is pretty self explanatory, it resists and slows down the electrical current. Different resistors have different strengths. Pics of resistors (with color coding for determining amount of resistance)
capacitor-the opposite of a resistor, it stores up a certain amount of energy, then fires it off, creating a stronger electrical flow. They also can cause errors if unfired. More on that later in this post.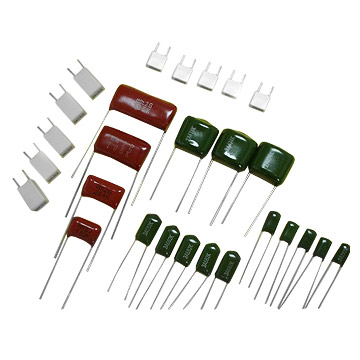 transistor-splits the direction of and/or amplifies the electrical current running through a circuit.
ground-the negative part of the circuit, also the end of the "circle" the electricity flows to. (No picture)
potentiometer-a three terminal resistor with some sort of sliding, adjustable, voltage divider. Can be used to speed up or slow down an electrical current.
test lead-any sort of conductor that you can test what you are doing with.
lick n' stick-a technique of testing a connection you may have. Lick your fingers and stick them in different places on the circuit board while playing a sound, to see if you get any alteration.
clock-the control center of a toy. It could be just about anything. A lot of basic circuit bending involves the clock.
If there are more, I will add them.
You may, at this point, now begin to wonder to yourself, "Is circuit bending safe?" The answer is yes, if you aren't stupid with it. The toys you work with are low voltage (almost 100% of the time), so there is little chance of any sort of injury. However, should you attempt to do this on higher voltage objects such as TVs, I will take no responsibility for any harm caused. I warned you already, so no blaming me. (btw the capacitor in a TV can kill you.)
Circuit bending requires that you have some sort of half a mind. In other words, you have to be relatively smart. Or at least smart enough to follow a path and figure out how you got one effect and how you can duplicate it in another fashion. ex. You touch one end of your finger to one end of a resistor and the other finger to the other end of a resistor. You are mainly water, which is more conductive of electricity than a resistor. What happens and why?
The sound (if you have your fingers skipping the audio resistor) will get sped up and maybe distorted. This is due to the fact that you conduct better than the resistor, so electricity travels faster. The electricity travelling faster results in a speed up of the sound. You can duplicate this in a few ways. You can "expose" that part of the circuit by soldering two pieces of wire to either end of the resistor and then have the other ends of both wires exposed. Touch the ends and it is the same effect as when you touched the resistor. Or you could do the same thing, except don't expose the wire. Rather, attach it to a potentiometer for more control over the speed.
One thing I didn't mention above is that a soldering iron/gun will be necessary, along with solder and flux. (flux infused solder is what I prefer to use) However, I will not tell how to solder here unless enough people request it. Otherwise I recommend Google or eHow.com.
User submitted info:
by Revlex
Also, there is the MCU which is a programmable microprocessor. MCU's are in almost anything now a days.
The MCU work with the I/O principle, wich means a pin in the MCU can be used as input and output. In the I/O world of microprocessors there are the analog and digital types.

The analog I/O is a continual current which of course can alter and so the MCU can read different values.

The digital I/O work trough a PMW.

PMW stands for Pulse Modular With, PMW is used in almost the same fashion as analog is used except it only has to voltages it uses HIGH(5V) and LOW(0V) trough very fast burst of volts(5V or 0V) in milliseconds.

Common problems:
Toy no longer works?
To the best of my knowledge, there are two things that could be wrong. One of them is that there is an unfired capacitor. To get the toy working again, take tin foil, fold it into a square, and rub it against your hair, a shirt, anything to get a static charge. Then put the piece of foil against the solder side of the circuit board (the one with the silver blobs) Try the toy again. If it doesn't work, the circuit is most likely fried.
Toy froze?
Your most likely problem is that you created a power surge in your toy. Try taking out the batteries then putting them back in, or hitting the reset switch. If that doesn't work, yet again, the circuit is fried.
Videos/recordings:
Resources:
Submitted by Revlex
http://www.sparkfun.com/commerce/product_info.php?products_id=9837l<--An electrical kit
http://www.societyofrobots.com/<--A place with some cool tutorials
http://www.sparkfun.com/commerce/tutorials.php<--More tutorials and projects
I have to give credit to Roth Mobot for my basic knowledge of circuit bending.
This is and almost always be a WIP, so bear with me. I am hoping to learn just as much as you in this thread.
Have something to contribute to the OP? PM me with it.
Feel free to post any questions you may have in this thread, and I will answer it the best that I can and maybe even get a more advanced circuit bender to answer your question.
Also, feel free to discuss.
Last edited by Banzai on Wed Jul 14, 2010 6:19 pm; edited 1 time in total
Unknown





Posts

: 27


Points

: 3298


Join date

: 2010-07-10



'cause I think it's cool, and thought I'd spread the idea.

Adding updates to the OP...

---
Permissions in this forum:
You
cannot
reply to topics in this forum